Main Article:
Edit
My Room Information
Edit
The My Room button is used to store objects you can get from racing, alchemy, and more. It has a total of 6 tabs; New (Recent 3 Days), Character (Transform), Costumes (Hair, Top, Bottoms, Shoes), Accessory (Head, Face, Neck, Hand, Back, Look), Pet (Pet, Pet Item, Pet Food), and Other (Emotion, Game, Chat, Ad, Farm, Emblem, Enter Effect, Alchemy Coupon, Event).
It also holds your alchemy which is under Costumes, unless, you have crafted it within 3 days it would also be in the New tab. For example, you crafted Ladybug Shoes, it would appear in the New tab and the Costumes Shoes tab.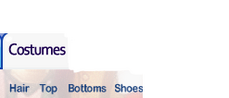 Ad blocker interference detected!
Wikia is a free-to-use site that makes money from advertising. We have a modified experience for viewers using ad blockers

Wikia is not accessible if you've made further modifications. Remove the custom ad blocker rule(s) and the page will load as expected.