Big Bo
Information
Personal data
Age
18 years
Height
6'4 ft (192 cm)
Weight
276 lbs (125 kg)
Blood Type
O
Occupation
Student / Vet
Game stats
Max Speed
█ █ █ █ █ 5
Acceleration
█ █ 2
Power
█ █ █ █ █ █ 6
Control
█ 1
Purchase
Price
32,000 TR
Starting Character
No
Main article: Characters
Character Information

Edit
Big Bo was a simple and innocent boy. When his pet parrot 'Dunga' became sick, he searched everywhere for the cure. When he heard about the Wish Stone, he dropped everything and became a Tales Runner.
Big Bo has the highest base Power of all characters in the game, which is compensated by the lowest base Control. He is considered useful in races where Control isn't an issue and his Power and Max Speed provide significant advantage.
--
(Big Bo memiliki basis kekuatan tertinggi dari semua karakter dalam game yang dikompensasi oleh basis Kontrol terendah. Hal ini dianggap berguna dalam balapan di mana kontrol tidak menjadi masalah dan Power dan Max Kecepatan memberikan keuntungan yang signifikan.)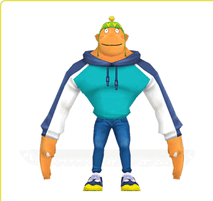 Ad blocker interference detected!
Wikia is a free-to-use site that makes money from advertising. We have a modified experience for viewers using ad blockers

Wikia is not accessible if you've made further modifications. Remove the custom ad blocker rule(s) and the page will load as expected.